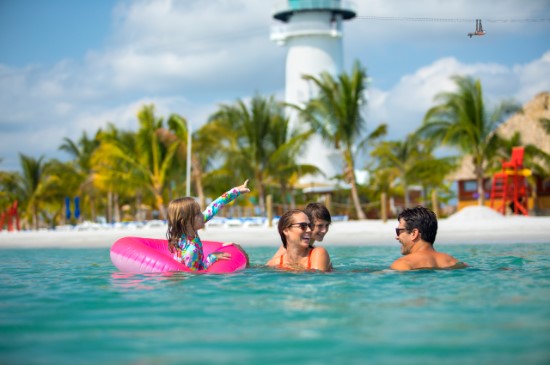 Overview: Harvest Caye is a tropical paradise in Belize, and it serves as a port of call for various cruise lines. Owned by Norwegian Cruise Line Holdings Ltd., it offers a range of amenities and activities for cruisers looking to enjoy a day in a beautiful Caribbean setting. Cruise lines such as Norwegian Cruise Line, Oceania Cruises, and Regent Seven Seas Cruises often visit Harvest Caye.
How to Get There: Ships typically dock directly at Harvest Caye, eliminating the need for tender boats. Passengers can easily disembark onto the island via the dock.
What to Do While Here:
Saltwater Lagoon: Relax in the pristine saltwater lagoon, complete with a swim-up bar.
Beach Time: Enjoy the beautiful beach, unwind in a beachside hammock, or swim in the clear Caribbean waters.
Watersports: Participate in water activities such as paddle-boarding, kayaking, and snorkeling.
Zip Line Adventure: Soar over the island on a thrilling zip line with panoramic views.
Wildlife and Nature: Explore the island's wildlife, including a butterfly garden and a nature center.
Kid Zone: Harvest Caye offers a family-friendly experience, including a kid's splash zone and a pool, making it an ideal destination for families.
Drink Package: Norwegian Cruise Line's onboard drink packages typically work on Harvest Caye, allowing you to enjoy your favorite beverages while onshore.
Local Cuisine: The island features several dining options, including the LandShark Bar & Grill and the Manatee Marina Bar & Grill, offering a variety of cuisine from burgers to seafood. There's also a marketplace with local Belizean flavors.
Shopping: Harvest Caye has a shopping village where cruisers can find souvenirs, jewelry, clothing, and local crafts. Most transactions can be made with your cruise card, but it's advisable to have some cash or a credit card on hand for additional purchases.
Insider Tip: Consider booking your shore excursions or activities in advance to secure your spot, especially if you have specific preferences. Don't forget to explore the island's natural beauty and wildlife, and if you plan to swim, bring your swimwear and sunscreen. Lastly, be aware of the ship's departure time and return in advance to avoid any last-minute rushes.
********************
You get more when you book with CruisesOnly instead of booking directly with the cruise line. We give you our exclusive bonus offers, plus all qualifying Norwegian Cruise Line offers, plus all of the Latitudes Rewards benefits. Book your next Norwegian cruise today! Call us at 800-278-4737 if you need help finding the perfect cruise.